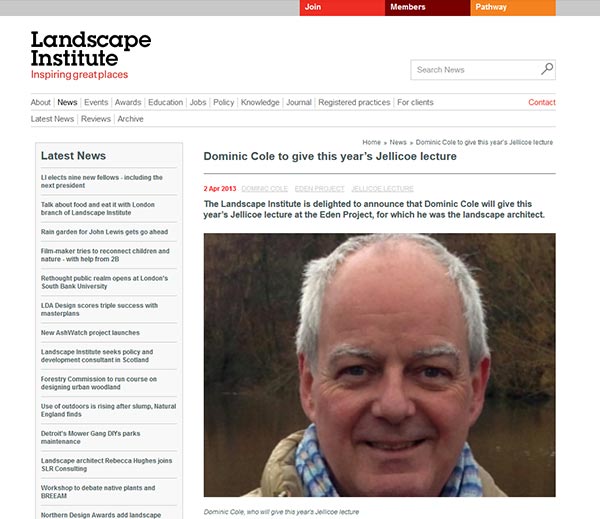 The Landscape Institute is delighted to announce that Dominic Cole will give this year's Jellicoe lecture at the Eden Project, for which he was the landscape architect.
Cole will deliver the lecture on the evening of Friday 8 November. This will be an exciting opportunity for anybody who has not visited the project, or who wants to see it again, to listen to its designer speaking in situ.
Cole masterplanned Eden with project founder Tim Smit after previously working with him at the Lost Gardens of Heligan. At the time he worked for Land Use Consultants, where he spent 29 years, until setting up on his own in January 2012.
Dominic Cole studied landscape architecture at Leeds Polytechnic and has always appreciated the practical training , particularly time spent in studio and on site with fellow students . He then spent short spells with the department of Environment , Tarsem Flora and Gernot Jung  before joining LUC.
His particular interest in historic landscapes and how they are understood and presented has led to him becoming chairman of the Garden History Society and chairman of the National Trust Parks & Gardens advisory panel. He is also is a trustee of the charity Living Medicine which promotes plants for good health – both medicinally and by enjoying eating them.
The Jellicoe lecture will follow the Landscape Institute AGM. It will be an opportunity for Landscape Institute members to spend a weekend in Cornwall. The LI hopes to offer special tours of the project on Saturday 9 November.