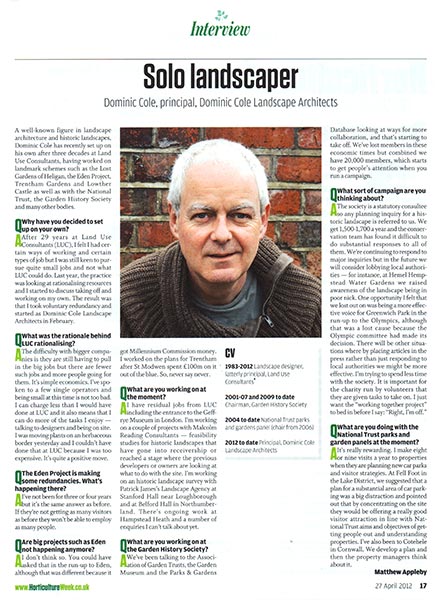 Solo landscaper
Dominic Cole, principal, Dominic Cole Landscape Architects
A well-known figure in landscape architecture and historic landscapes, Dominic Cole has recently set up on his own after three decades at Land Use Consultants, having worked on landmark schemes such as the Lost Gardens of Heligan, the Eden Project, Trentham Gardens and Lowther Castle as well as with the National Trust, the Garden History Society and many other bodies.
Q Why have you decided to set up on your own?
A After 29 years at Land Use  Consultants (LUC), I felt I had certain ways of working and certain types of job but I was still keen to pursue quite small jobs and not what LUC could do. Last year, the practice was looking at rationalising resources and I started to discuss taking off and working on my own. The result was that I took voluntary redundancy and started as Dominic Cole Landscape Architects in February.
Q What was the rationale behind 4LUC rationalising?
A The difficulty with bigger companies is they are still having to pull in the big jobs but there are fewer such jobs and more people going for them. It's simple economics. I've spoken to a few single operators and being small at this time is not too bad. I can charge less than I would have done at LUC and it also means that I can do more of the tasks I enjoy —talking to designers and being on site. I was moving plants on an herbaceous border yesterday and I couldn't have done that at LUC because I was too expensive. It's quite a positive move.
Q The Eden Project is making some redundancies. What's happening there?
A I've not been for three or four years but it's the same answer as before. If they're not getting as many visitors as before they won't be able to employ as many people.
Q Are big projects such as Eden not happening anymore?
A I don't think so. You could have asked that in the run-up to Eden, although that was different because it got Millennium Commission money. I worked on the plans for Trentham after St Modwen spent £100m on it out of the blue. So, never say never.
Q What are you working on at the moment?
A I have residual jobs from LUC including the entrance to the Geffrye Museum in London. I'm working on a couple of projects with Malcolm Reading Consultants — feasibility studies for historic landscapes that have gone into receivership or reached a stage where the previous developers or owners are looking at what to do with the site. I'm working on an historic landscape survey with Patrick James's Landscape Agency at Stanford Hall near Loughborough and at Belford Hall in Northumberland. There's ongoing work at Hampstead Heath and a number of enquiries I can't talk about yet.
Q What are you working on at the Garden History Society?
A We've been talking to the Association of Garden Trusts, the Garden Museum and the Parks & Gardens Database looking at ways for more collaboration, and that's starting to take off. We've lost members in these economic times but combined we have 20,000 members, which starts to get people's attention when you run a campaign.
Q What sort of campaign are you thinking about?
A The society is a statutory consultee so any planning inquiry for a historic landscape is referred to us. We get 1,500-1,700 a year and the conservation team has found it difficult to do substantial responses to all of them. We're continuing to respond to major inquiries but in the future we will consider lobbying local authorities — for instance, at Hemel Hempstead Water Gardens we raised awareness of the landscape being in poor nick. One opportunity I felt that we lost out on was being a more effective voice for Greenwich Park in the run-up to the Olympics, although that was a lost cause because the Olympic committee had made its decision. There will be other situations where by placing articles in the press rather than just responding to local authorities we might be more effective. I'm trying to spend less time with the society. It is important for the charity run by volunteers that they are given tasks to take on. I just want the "working together project" to bed in before I say: "Right, I'm off."
Q What are you doing with the National Trust parks and garden panels at the moment?
A It's really rewarding. I make eight or nine visits a year to properties when they are planning new car parks and visitor strategies. At Fell Foot in the Lake District, we suggested that a plan for a substantial area of car parking was a big distraction and pointed out that by concentrating on the site they would be offering a really good visitor attraction in line with National Trust aims and objectives of getting people out and understanding properties. I've also been to Cotehele in Cornwall. We develop a plan and then the property managers think about it.
Matthew Appleby
CV
1983-2012 Landscape designer, latterly principal, Land Use Consultants.
2001-07 and 2009 to date Chairman, Garden History Society
2004 to date National Trust parks and gardens panel (chair from 2006)
2012 to date Principal, Dominic Cole Landscape Architects